Today is MY day to shop The Nordstrom Anniversary Sale! Whoop-whoop! Ellie and I are headed in and this year we get to add "BABY" to the shopping section.
Nordstrom's biggest fashion event of the year will happen again from July 11-August 6. This is one of the most highly anticipated sales of the year for shoppers, who can score big savings on new arrivals and must-have essentials. In addition to clothing, shoes, handbags, and accessories, the sale includes jewelry, beauty items, fragrances, home goods, and more.
You have to be a card holder to shop EARLY!
Key Dates and Tiers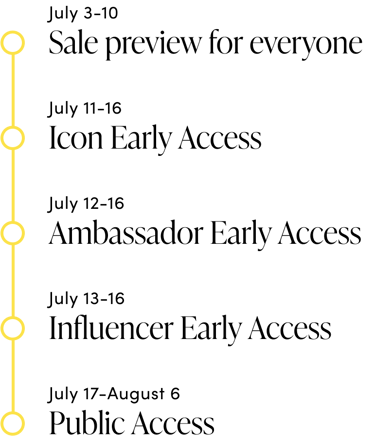 I lost my ICON STATUS this year! Am I sad about it? NOOOOO… Actually quite opposite. One of my resolutions this year was to "spend wisely" and cut back on excess spending and Nordstrom was one store I cut back on.
I planned very well this. I previewed the sale and have a game plan for when we arrive at the sale. I'm a texture girl so I need to touch some of these sweaters I put in my wish list before purchasing.
Here are somethings we are looking at…
SHOES

JEANS

BEAUTY

SWEATERS

BABY

ATHLEISURE